Ljudmilla Woloschina, née Sawzanskaja
born in Odessa (date of birth unknown)
Ravensbrück: April 7th, 1944, then subcamp in Neubrandenburg
Vice President of the IRK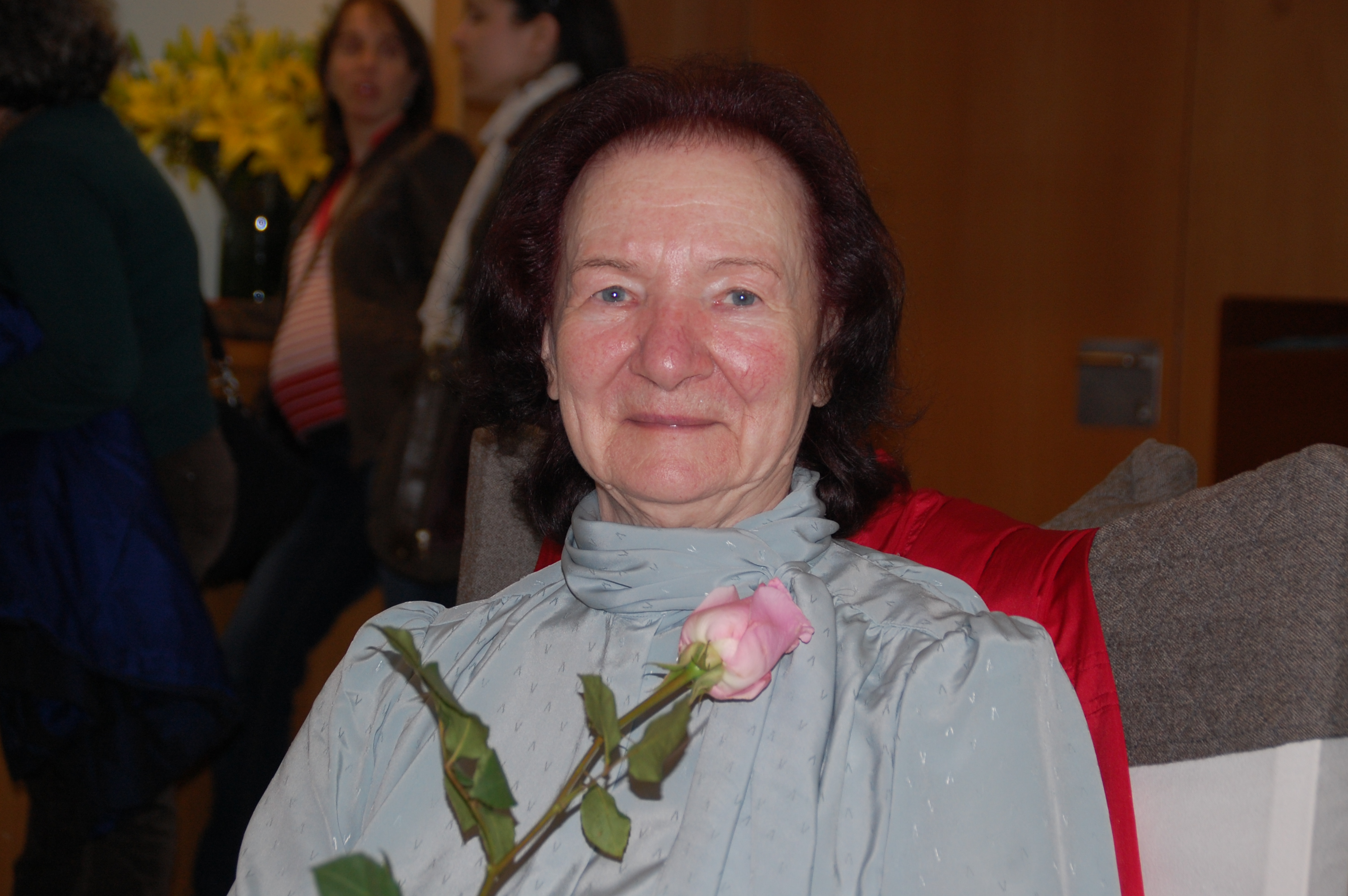 Lyudmilla Voloschina was born in Odessa as the fourth child of a Jewish family. The father was a teacher.
In 1933 the family left the city due to a great famine and moved to Donetsk. Her older siblings studied medicine and worked as doctors in the Red Army.
In 1942 Donetsk was occupied by the Germans.
One day, while Lyudmilla was on the road to get food for the family, she was intercepted by the mother of a friend who was determined to prevent her from returning to her parents' house. Lyudmilla finally learned that the Germans had murdered her parents and her sister's four-year-old son there.
Completely on her own, she got by without papers and dropped her maiden name in order not to be identified as a Jew. The Ukrainian police picked her up and interrogated her for four weeks. During the interrogations, she stuck to her new identity and insisted that she ran away from a children's home.
After four weeks in prison, she was handed over to the Gestapo, who took her and other Ukrainian girls to Germany for forced labor.
After about a year of forced labor in a wire factory for the Navy, she and other female forced laborers were deported to Ravensbrück for sabotage, where she arrived on April 7, 1944 and her long black hair was cut off.
A short time later, she had to do forced labor in a Ravensbrück subcamp in Neubrandenburg. The conditions there were catastrophic and Lyudmilla saw it as her salvation that a French woman, Madame Jolie, looked after her like a mother. She was able to receive food parcels, which she shared with her and another Russian girl.
On April 30, 1945, the prisoners were driven on the death march. Together with Madame Jolie, the girls managed to escape. They hid.
On May 1st they were completely exhausted, found and liberated by Russian soldiers.
Since then, Lyudmilla Voloschina has celebrated her "second birthday" every May 1st by laying the certificate, that a Russian soldier had issued to her when she was liberated, on the table in front of her.
Before she went to Moscow to see her sister, who had also survived the war, she worked for the Russian military administration in Mecklenburg-Western Pomerania for two years. They employed her because of her good knowledge of the German language.
It took Lyudmilla Voloschina a year before she overcame her panic and was able to reveal her story to her general, and thus also her Jewish origins. To this day she is touched by the reaction of this man, who was the first person to be touched by her fate: "The old man weeps, the young one weeps and nature weeps with us."
After this time she moved to live with her older sister in Moscow. She gave birth to a son and a daughter.
Lyudmilla Voloschina did everything in her life to tell as many people as possible about her life and experiences.
She worked on the International Ravensbrück Committee and was also active in many other organizations.
(Sources: Ravensbrückblätter, vol. 29, no. 117, December 2003, portrait, written by Veronika Springmann and interview with Ludmilla Woloschina on September 26, 2004 in Lidice in: "Europa im Kampf 1939-1944. International poetry from the women's concentration camp Ravensbrück ", pp. 209-210, Ed .: Constanze Jaiser, Jacob David Pampuch, 2005 Metropol Verlag, ISBN 3-936411-61-1) *