Nadjeshda Denisowna Kalnitzkaja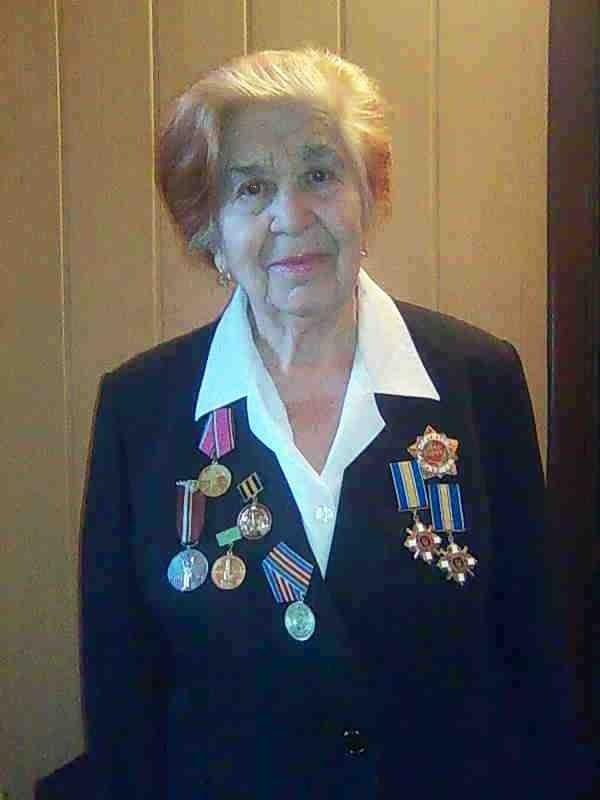 Nadja Kalnitzkaja was born on April 26, 1923 in a small village in the Kursk region. She grew up with seven brothers in a family that ran a farm. In the course of the expropriations, the family lost their property, were separated and Nadja and her mother ended up in the north of the country.
During the war, she and her school class were sent to the front to build anti-tank barriers for the Red Army. After an attack in which many were killed, Nadja Kalnitzkaja and some comrades were taken prisoner by the Germans. Now they had to build anti-tank barriers for the German troops. In June 1942 the 19-year-old came from there to Remscheid in the Rhineland, where she had to do forced labor for the Fritz Keiper automobile company. One day, when three wagons with finished production were set on fire, work colleagues accused her and two other Ukrainian women of the crime. The three young women managed to escape, but in Poland the ones wanted for work sabotage were picked up by the Gestapo.
After being briefly imprisoned in Auschwitz in autumn 1942, they finally arrived in Ravensbrück via the Berlin Alexanderplatz prison on November 11, 1942 (n ° 14 995). One of the comrades who fled with her died in custody, she lost sight of the other one. In Ravensbrück, Nadja Kalnitzkaja had to do heavy work in the road construction command. Fortunately for her, as she says, in spring 1943 she was assigned to the Siemens & Halske wire winding plant, in the immediate vicinity of the main warehouse. There she was less exposed to the weather and physical strain. Like many, Nadja Kalnitzkaja sabotaged production wherever she could. She spent the last months of her captivity in the Neubrandenburg satellite camp at the ammunition factory of the Mechanische Werkstätten GmbH.
After the liberation by the Red Army, she was employed by the Russian military administration in Neubrandenburg for some time because of her good knowledge of the German language. Her camp friend was Nora Idzikowskaja, a girl from Crimea, who managed to hide her Jewish origins and with whom she survived the term of imprisonment. They remained close friends even after the war. After several strokes of fate, Nadja Kalnitzkaja finally married the widowed brother of a friend, an officer who brought two children into the marriage. For a long time she worked as an economist, most recently she worked in the food industry in Siberia with her husband.
At the invitation of Charlotte Müller, who was also a Ravensbrück prisoner at war, she returned to Germany after twenty years. Nadja Kalnitzkaja lived in Mariupol in the Ukraine. She has been a member of the IRK for many years. On 24.11.2020 she died.
(Source: Europa im Kampf 1939-1944. International poetry from the Ravensbrück women's concentration camp, p.186/187, ed .: Constanze Jaiser, Jacob David Pampuch, Metropol 2005, ISBN 3-936411-61-1) *