Antonie (Toni) Lehr
30.11.1907 (Czernowitz) - 01.03.1997 (Vienna) Graduate in business administration
Auschwitz: 01.11.1944 – 18.01.1945 Ravensbrück: 20. January 1945 – April 1945
Secretary General of the IRK 1965-1973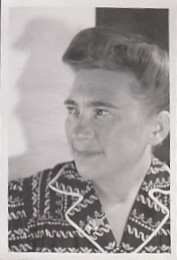 Toni Lehr was born on November 30, 1907 in Czernowitz. She came to Vienna in 1914, studied world trade and was active early on for the SPÖ, later for the KPÖ, for which she worked from 1933.
After the workers' defeat in February 1934, she fled to Moscow via Prague, where she worked for the Austrian section of the Comintern.
In March 1936 she moved to Paris. Here she worked for the Red Help. She expressed her solidarity with the Spanish Republic through her work in the Spanish Committee.
After the German invasion, she joined the Resistance. She used her work in a German propaganda office to secretly produce illegal publications there. "The German army had its own newspaper called" The Soldier in the West "and we published a sheet in the same guise, in which the lies of the Nazis were told and the soldiers were told to stop the war. It was a highlight of our work when we heard on Moscow radio that a soldier had split due to this newspaper", said Toni Lehr.
Under the code name Anette Lutterbach, she voluntarily returned to Vienna, disguised as a French foreign worker, where she was employed as an interpreter in the locomotive factory in Floridsdorf. At the same time, she continued to work illegally for the KPÖ.
On July 4, 1944, she was arrested by the Gestapo and badly mistreated. On November 1, 1944, she was deported to Auschwitz. Due to the approaching Red Army, she was transported to Ravensbrück on January 18, 1945 along with other prisoners.
With typhoid fever she was in the district when she was to be executed - together with two comrades. Prisoners from different nations helped to save the three. A Polish prisoner doctor cut the tattooed Auschwitz number from her arm and, carrying the papers of a late French woman, she came to Scandinavia with the first transports of the Red Cross. The -> international solidarity of women in Ravensbrück kept her alive. (see also Toni Bruha)
Returning to Vienna in the summer of 1945, she continued her work for the KPÖ. Like many of her comrades, she broke with her party in 1968 after the troops of the Warsaw Pact entered Prague. She continued her journalistic work in the "Wiener Tagebuch".
Until the end, she was a volunteer in the Documentation Archive of the Austrian Resistance (DÖW), at the Concentration camp Association and in the Ravensbrück camp community. She was delegated to the International Ravensbrück Committee (IRC) by the camp community.
She died on March 1st, 1997 in Vienna.
Sources: DÖW; Artikel von Rainer Mayerhofer in der "Wiener Zeitung" vom 5. März 1997, Irene Filip: "Voluntarias Internacionales de la Libertad" in Mitteilungen der Alfred Klahr Gesellschaft, Sept. 2016