Ambra Laurenzi
13.12.1949 Photographer, Teacher
Daughter of Mirella Stanzione (11.03.1927) and granddaughter of Nina Tantini, both of whom were deported to Ravensbrück because of their participation in the resistance against the fascist regime
President of the IRK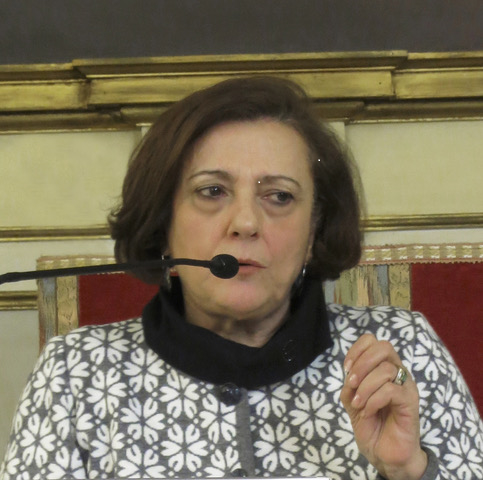 In 2006 Bianca Paganini, member of the International Committee of Ravensbrück (ICR), asked me to replace her as a delegate for Italy, due to the aggravation of her state of health. Since 2007 I'm participating therefore in all the meetings of the ICR. The meetings with the deportees of the various countries and with delegates of the second or third generations are always very stimulating and exciting.
My membership in the ICR immediatly placed me the duty to spread the history of Ravensbrück, witch was little known in Italy. I made a documentary on the history of the Italian deportees, the location, the history and the very strict rules of the camp.
The video "The roses of Ravensbrück" over the years has been shown in many cities, especially in schools as a teaching tool for young people. It was also presented in Berlin and in Vienna, subtitled in German and in Budapest with hungarian subtitles. Guest of the presentation in Berlin was Insa Eschebach, director of the Memorial Ravensbrück.
I took part in study committees, in Berlin in 2014 and in Orvieto in 2015, where I organised a meeting with Jeanine Bochat, Bärbel Schindler-Saefkow and Sarka Kadlecovà, with the aim to decide on the content of the website of the ICR and the stepps of its realisation.
I have involved the graphic department students of the European Institute of Design in Rome for the realisation of the logo of the ICR, that the delegates approved during the Vienna Meeting in 2016.
With financial contribution of the ANED a Photo book was published by me in 2015, the 70th anniversary of the Camp's liberation. The book contains pictures of the memorial field today. The book has a chapter dedicated to the ICR whose history is told, accompanied by pictures of the initiatives of recent years in the various European countries. The book in Italian and English languages was presented in one of the seats of the Chamber of Deputies in January 2016. It is located in the libraries of Yad Vashem in Jerusalem and at the US Holocaust Memorial Museum in Washington.