Anne Cordier
Born in Paris, studied languages, married, 3 girls, 4 grand children.
42 years working in the printing industry as a commercial manager and general manager.
Today happily retired.
Daughter of Marie Sylvie Girard Cordier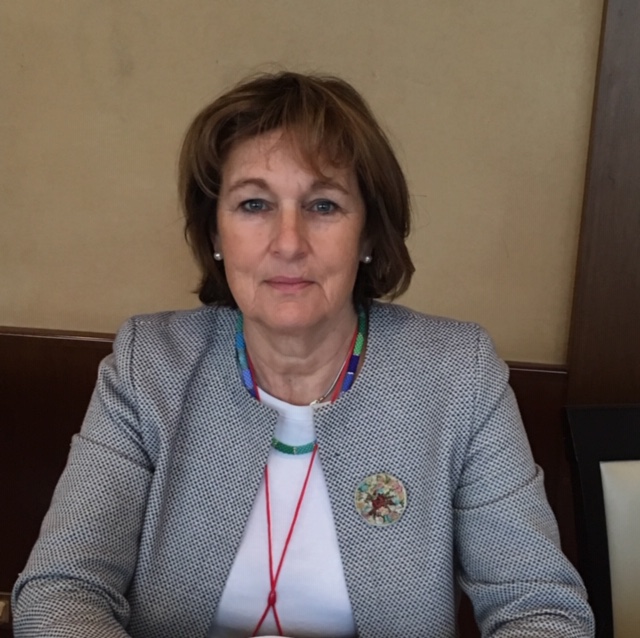 My mother, Marie Sylvie Girard Cordier did not speak much about her deportation but enough for us, her children, to have the feeling of an unsustainable past. Political Resistant, arrested, tortured, deported to Ravensbrück, her whole life was suggesting this past I could not listen because too difficult for me as if I knew it already deeply in my heart.
It is only in 2008, 9 years after she died, that I've been contacted by Claude du Granrut, President SFAADIR. She would certainly be able to « explain » to me my mother : Claude, beeing Germaine de Renty' daughter who was a good friend of my mother since they were together in Ravensbrück. As well as Jacqueline Fleury, former ADIR President, who was in the same train wagon as my mother when they were transported from Paris to Ravensbrück on August 15, 1944.
That's the reason why I've joined SFAADIR organisation : each year we organise events related to the deportation: symposium at the Senate before Germaine Tillion and Geneviève de Gaulle were celebrated in the Pantheon in Paris, organising memorial travel to Berlin and Ravensbrück, meeting at the town hall on the women joining the Resistance and how they engage themselves, taking part in the editing of « La lettre de la Sfaadir »etc ..
Today as a full member of the ICR I find obvious friendship and human warmth when I see again my friends daughter or grand-daughter of the deported.
On September 15, 2022, following a General Assembly, Anne Cordier was unanimously elected President of Sfaadir. Claude du Granrut led our association with courage and dynamism but, tired, she wished to retire. Anne Cordier is the daughter of Marie Girard, wife of Sylvie Cordier, Resistance fighter, member of the OCCM network, who was savagely tortured by the Gestapo, deported to Ravensbrück in August 1944, Chevalier of the Legion of Honor, Resistance medalist, and Croix de Guerre 39-45